The Rogue Codewright
~ Nathan Curtis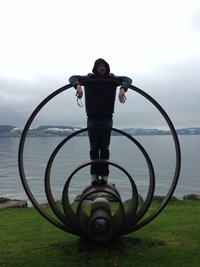 Nathan is a Software Engineer at Joyable, helping to cure the world of social anxiety. Previously, he co-founded Plixl in June, 2013. Before that, he was a Software Engineer at Three Rings Design in San Francisco for six years. He holds a bachelor's degree in Computer Engineering Technology from Rochester Institute of Technology, where he also studied graduate Computer Science.
Examples of Nathan's publicly available work may be seen on Github and Stack Overflow.
Available for download: PDF Resume.
Game projects past and present
Antihero, game development.
Seek & Find, game and platform development.
Mosaic Medley, game and platform development.
Puzzle Pirates, specifically the iPad port.
Doctor Who: Worlds in Time (no longer available), platform and minigame development.
Spiral Knights, online services integration.
Bite Me, game development and Facebook integration.
Whirled: platform, web and flash client development, SDK development and individual game project development.
Jam games: Jammy, Forbidden Panic.
Game websites: Spiral Knights, Doctor Who: Worlds in Time (no longer available).
Open source libraries
Experience and Expertise
Java: eight years professional development, server and client side, including work in Servlets, JDBC/ORM, GWT, Swing, PlayN/Tripleplay.
Actionscript: eight years professional development for game clients. Developed both for in-browser and on AIR. Recent work in Starling/Stage3D.
Javascript/HTML/CSS: nine years off and on professional development, including web services integration and rich browser applications.
Language familiarity: Python, Ruby, C#, ObjC, PHP
Relational database technologies: MySQL, PostgreSQL
Web and Cloud services: AWS (EC2, S3, CloudFront, EBS), Google Cloud (CloudSQL, AppEngine), Facebook, Mailchimp, Kongregate, various analytics platforms.
---
Hobbies
Pets: Nathan has an adorable Italian Greyhound, and a black short hair cat rescue.
Bicycling: Nathan and his father Jon bicycled across the US in the 1997/98 Awesome Across America Adventure. Nathan still regularly cycles short distances around home and would like to get back into long distance riding.
Running: After completing his first marathon in March 2015, Nathan is training for another in July.
Juggling: Nathan was an active juggler in college, including holding the presidency of the RIT Juggling Club for a year, and helping to organize the RIT Spring Juggle-In.
Go: Nathan was an active player in college. A lot of time was spent in Empty Sky Go Club meetings. Nathan attended the 19th US Go Congress in Houston and helped run the 20th US Go Congress in Rochester.
Music: Nathan holds a minor in music, and played trumpet through High School and College. He also has experience on piano, guitar and english handbells.
Martial Arts: Nathan studied Kung Fu for several years in College, and Aikido briefly during his time at Three Rings Design in San Francisco.